Wednesday, 30 March 2011 08:00
Tweak matches dual link SDI support with RV's intuitive interface for playback, editing and side-by-side and A/B comparisons of digital media for dailies and theater reviews.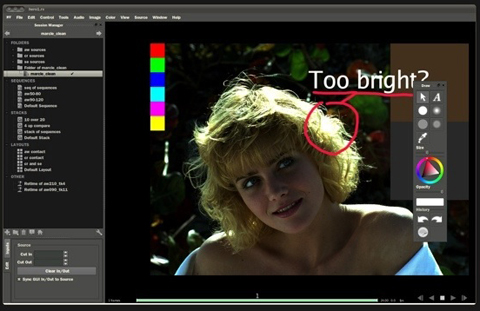 Tweak Software, makers of RV, the next generation image and sequence viewer for VFX and animation artists, announced RV SDI, to be unveiled at the National Association of Broadcasters Conference (NAB) at the Las Vegas Convention Center, April 11-14 in booth SL9707.

"Many leading shops already use RV for dailies and theater reviews, while others rely on older generation black box systems," said Seth Rosenthal, Tweak's co-founder. "Our users made it clear that there is a big need for a new kind of dailies playback tool that combines RV's ease of use and flexibility with stereo SDI output." RV makes it easy to review media with a powerful, customizable dailies workflow and an advanced media architecture that lets you automatically combine media of different resolutions, frame rates, color spaces, and audio sampling rates.

RV SDI adds Dual Link SDI output with embedded audio to Tweak's advanced playback and review tool using Nvidia Quadro SDI hardware. RV SDI will support Linux and Windows and will be available for $4,999. More information is available at: http://www.tweaksoftware.com/products/products-rvsdi

RV SDI capabilities include:

· Stereo over Dual Link SDI
· High resolution, high bit depth SDI
· 24 bit embedded audio
· Advanced Color handling: HDR, floating point, linear light pipeline
· Review: Organize and annotate media for desktop or dailies review
· Collaboration: Connect to other artists, clients or vendors for remote review
· Editing: Edit sequences with lightweight intuitive tools
· Comparison: Layout shots or cuts in tiled views, A/B compares with wipes
· Integration: Script, customize, automate RV to fit into your pipeline or workflow

Leading VFX and CG animation studios around the world including Digital Domain, WETA, Aardman, ILM and many others use RV to playback and review digital media. RV's professional, high-performance toolset is built on an open, extensible architecture allowing users to adapt the software to their own pipelines and styles of working.