Friday, 10 June 2011 09:50
Bi-coastal effects boutique Brickyard VFX recently completed visual effects work on the "Always Epic" campaign for Major League Baseball via agency Hill Holliday.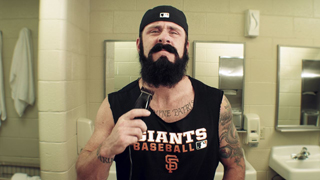 Brickyard's work focused on San Francisco Giants pitcher Brian Wilson. Wilson is a two-time All-Star selection and last season led Major League Baseball with 48 saves. Wilson was the pitcher on the mound when the Giants won the 2010 National League Division Series, National League Championship Series and the World Series. As the eccentric star closer of the World Champion Giants, Brian Wilson has become as famous for his wild jet black beard as for his Major League leading save totals. MLB and Hill Holliday play off of his iconic facial hair and off-beat personality with a mini-campaign featuring three :30 TV spots and thirteen web videos that goes "Inside The Beard." The content takes fans on a fanciful journey through the world which exists inside the closer's forbidding black beard, leading to a variety of unusual scenarios that coincide with Wilson's fondness for ninjas and the obscure. The Brickyard team, led by lead 2D artist Gina Downing, provided extensive CG and visual effects work.

The TV spots begin with a shot of Brian Wilson, quickly zeroing in onto - and into - his trademark beard. Brickyard VFX meticulously tracked the entire shot to seamlessly transition from the live action plate of Wilson into the whimsical worlds hidden within his beard.

Downing, a seven-year Brickyard veteran, commented: "My favorite aspect of visual effects is using CG to create something photoreal, seamlessly integrated into live action. We had a lot of opportunities for that kind of work on this campaign, plus it was so kooky and different from anything else I had worked on recently. It was fun thinking about ways to connect beard hairs - certainly not your typical day at the office."

Brickyard's turnaround time for the campaign was two weeks. Tracking was done in Vicon Boujou and Imagineer Systems mocha, and Autodesk Flame was used for layering and compositing.