Thursday, 14 April 2011 09:09
Page 1 of 2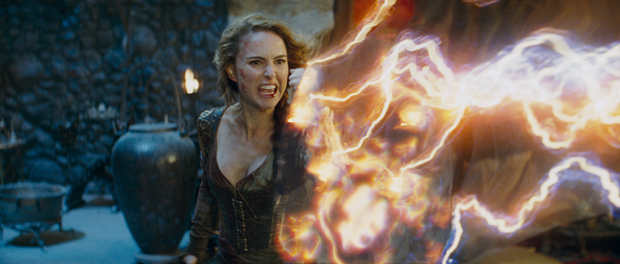 Your Highness, opening in the US on 8th April 2011 and in the UK on 15th April 2011, marks the debut of a new cinematic sub-genre: the medieval stoner comedy. Directed by David Gordon Green, and written by and starring Danny McBride (who'd previously worked with Green on Pineapple Express), the film is an affectionate, if utterly filthy, tribute to the fantasy films its creators grew up on (Beastmaster, Willow, Krull et al). Starring McBride, James Franco and Natalie Portman, Your Highness was produced by Scott Stuber for Stuber Productions. Digital Visual Effects were created entirely by Framestore.
"The creative efforts of Framestore were above and beyond the vision that Danny (McBride) and I dreamed for the movie… you guys somehow managed to make the film explode with scope and intensity… thank you from the bottom of my heart…"
- David Gordon Green, Director, Your Highness
Thadeous (McBride) has spent his life watching his perfect older brother Fabious (Franco) embark upon valiant journeys and win the hearts of his people. Tired of being passed over for adventure, adoration and the throne, he's settled for a life of wizard's weed, hard booze and easy maidens. But when Fabious' bride-to-be, Belladonna (Zooey Deschanel), gets kidnapped by the evil wizard Leezar (Justin Theroux), the king gives his deadbeat son an ultimatum: man up and help rescue her or get cut off. Half-assedly embarking upon his first quest, Thadeous joins Fabious to trek across the perilous outlands and free the princess. Joined by Isabel (Natalie Portman) - an elusive warrior with a dangerous agenda of her own - the brothers must vanquish horrific creatures and traitorous knights before they can reach Belladonna...
Angel Dust

Heading the project for Framestore was veteran Visual Effects Supervisor Mike McGee. Following a highly successful pitch to the creative team, McGee was invited to Northern Ireland for a six-week pre-production planning and development period during which, in addition to preparing Framestore's game plan for the project, McGee was invited to contribute ideas as the script continued to evolve.

Framestore created some 570 shots for Your Highness, including a gigantic five-headed reptilian monster, a flying mechanical bird, numerous matte paintings and set extensions, blood and guts galore, an enormous arsenal of magical combat weaponry and – there's no nice way of saying this – a digital todger.
"It was the most fun I've had on a shoot – ever," McGee states unequivocally. "There was laughter in every set up, and an exhilarating sense of anticipation because of the unexpected things the director and cast would come up with." The shooting script of Your Highness was used only as a rough guideline, certainly as far as the dialogue was concerned, and the comedic thoroughbreds in the cast were encouraged to come up with new material whenever possible. "My job was to be able to respond to this looseness with VFX that would support the ideas whenever needed," continues McGee, "For example, in one sequence we created some CG fairies for a scene at a pond, fluttering round like moths or fireflies. The director and actors came up with a bit that involved the villainous Leezar getting one of the fairies to settle on his finger, grab it, pull its wings and head off, crush the torso in his hand and then snort the remains. So I just made sure we got the shots necessary to make this sort of mad, brilliant improv work." McGee was joined on the shoot by fellow Visual Effects Supervisor Rob Duncan, who had sole responsibility for several sequences, CG Supervisor Ben White, Senior VFX Producer Charles Howell and other members of the Framestore team.

Five-Fingered Widow Maker

The so-called hand-serpent sequence was another example of McGee's creative input. "There needed to be a big fight scene," he recalls, "But the scripted monster just wasn't working for the team. I suggested this five-headed, hand-like creature that comes out of the ground, partly on the basis that five heads could be replicated easily within a limited budget, offering more fang for your buck. It was Danny (McBride) who took it to a whole new level when he came up with the idea that the creature is controlled by the evil Marteetee via a pot of goop that acts as a control interface. Marteetee plunges his hand into the goop and the creature bursts forth, giving our heroes a taste of the world's first ever virtual-reality fight."