Tuesday, 08 February 2011 08:04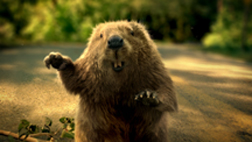 Visual effects company Method recently completed work on Bridgestone's :30 "Carma" via agency The Richards Group. The commercial, which debuted during Super Bowl XLV, features a beaver that repays a surprised motorist's kindness. The spot makes a sly reference to Bridgestone's "Scream," which debuted during Super Bowl XLII in 2008. The key talent that created "Scream" reunited for "Carma," including Director Kinka Usher and Method VFX Supervisor/Lead 3D Artist Andy Boyd. "We started with a good visual reference for rebuilding the beaver in CG" said Boyd. "We did a lot of R&D to build muscle structure and dynamics into him and really pushed things as far as we could. We took a subtle approach to the animation to ensure the beaver looked as natural as possible."
The beaver's fur - which was rigged and animated in Maya and rendered in Houdini - posed its own set of challenges as well. "We had two different approaches to the look of the fur," commented Boyd. "One was dry at the beginning of the spot and the other was wet at the end, where it took on a totally different look and shape, so getting it just right was definitely a challenge."
The bridge collapse, a pivotal set piece in the spot, had to be totally convincing. To achieve this, Method collaborated with Scanline, a company well-known for their water effects. Scanline provided the turbulent river as CG elements that were built to interact with Method's CG bridge animation. Lead Method Compositor Jake Montgomery pre-comped all CG in Nuke and added thunderstorm atmospherics as a final comp in Flame. Color grading was performed by Stefan Sonnenfeld at Method's sister company, Company 3.
"Expectations were high coming into this project based on "Scream," said Method VFX Producer Michael Wigart, "but everyone was really pleased with the results, which was gratifying."