Friday, 16 December 2011 15:14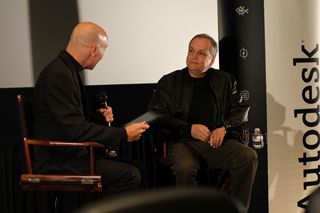 "The Adventures of Tintin" Virtual Production and Visual Effects Q&A With Weta Digital's Joe Letteri Available Exclusively Via Autodesk AREA Online Community Site.
Tuesday night in Los Angeles, Autodesk, Inc., presented a screening of Steven Spielberg's latest 3D film, "The Adventures of Tintin," followed by a question and answer (Q&A) session with Joe Letteri, senior visual effects (VFX) supervisor at Weta Digital who discussed the virtual production aspects of the new movie.

A podcast of the Q&A is now available to audiences worldwide on Autodesk Media & Entertainment Vice President Marc Petit's blog. The blog is part of AREA, the Autodesk Media & Entertainment virtual digital entertainment community. Log in to the Q&A to gain insights into the intricate and complex virtual production, performance capture and visual effects used to help immerse viewers in the wonderful world of Tintin.

Joe Letteri is a four-time Oscar winner for his groundbreaking visual effects work on James Cameron's "Avatar;" the last two "The Lord of the Rings" films: "The Two Towers" and "Return of the King;" and "King Kong," the latter three films with Peter Jackson. He was also nominated for the visual effects of "I, Robot."