Wednesday, 09 November 2011 00:02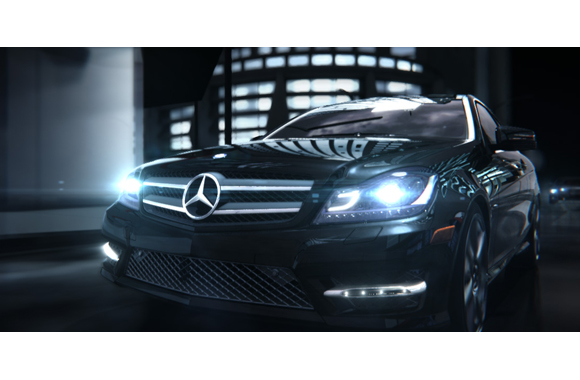 Innovative creative studio Stardust collaborated with the digital visionaries at Razorfish to create an interactive campaign for Mercedes-Benz USA that launched in October 2011. Directed by Stardust's Alan Bibby, the rich visual narrative engages Internet viewers to explore the two latest Mercedes C-Class models – the all-new 2012 Sedan and Coupe. With a swoop of the cursor, layers of the sedan or coupe are artfully peeled back to expose various features of the elegant luxury vehicles. This tale of two vehicles can be experienced now on the Mercedes-Benz website.
Razorfish enlisted Stardust to create visuals for an interactive online experience that would illustrate that the difference between a Mercedes-Benz Coupe and Sedan is much more than the simple removal of two doors— it's a complete lifestyle change. The result is a set of identical interactive films featuring fully CG cars and stylized environments woven into one experience that lets viewers shift between a Sedan lifestyle and its 'Couped' counterpart.
After fleshing out the concept, Stardust shot the live components of the very technical spot in one day. The driver was filmed in each car using motion control and the exact same lighting wearing different clothing specific to each lifestyle. With the help of Paris-based visual effects, animation and motion design studio, Mathematic, Stardust created and animated the CG elements that showcased two completely different – yet identical – worlds. Razorfish then programmed the components to gracefully interact resulting in two, seamlessly bridged, one-minute long spots that highlight the sedan's sophistication with daytime driving and contrast the coupe's adventurous spirit, which is shown taking to the streets at night.  Stardust's work also included the creation of video components based on the interactive film for television, theater, showroom and online viewing.
"Developing this visually driven, cohesive storytelling experience really pushed us out of the usual spectrum of work we've done in the past and challenged us technically with the need for more sophisticated visual effects," said Bibby. "Every frame of animation had to be perfect since viewers can conceivably stop the action at any moment during the transformations, so none of the usual blurs or cheats apply. It was a massive labor of love with an amazingly talented team and everyone involved really poured all their energy into making this project as great as it could be."
"As a creative, it's incredibly freeing to not be tied to just one medium and instead approach each job in whatever way makes sense," said Stardust founder and Creative Director Jake Banks. "Our work on projects like this allows us to showcase our production chops across platforms. We have a design background but can produce high-quality VFX work and even bring our experience as directors, creative directors and designers to whatever the concept requires."