Friday, 12 November 2010 15:47
Page 3 of 4
THE JUNGLE BOOK - 52 X 11- 3D HD TV Series:

The first broadcast of our home grown 52 x 11' 3D HD TV series "The Jungle Book" on TF1 channel in France was aired on 24th October and has received top ratings. The Jungle Book has already been sold in multiple countries around the world for broadcasting, licensing and distribution. It is co-produced by DQE with international partners including TF1 and Moonscoop, France, ZDF Group( Germany).  Rights to broadcast the series have also been acquired by ABC (Australia), Noga TV (Israel), Disney(Asia), Tele Quebec ( Canada), BBC(UK) and JCCTV(Middle East), TVO(Canada), Thai PBS, TV-12 (Singapore), while Home Video rights have been acquired by NBC Universal, TIGA (Thailand) and Play Records (Israel) , as well as several other licensees for worldwide merchandising.

THE NEW ADVENTURES OF PETER PAN - 26 X 22' - 3D HD STEREOSCOPIC  TVSERIES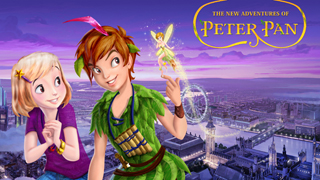 The New Adventures of Peter Pan was successfully launched in MIPCOM Festival - Cannes, France along with co-production partners ZDF Group(Germany) and Method Animation( France) supported by France Televisions, De Agostini Group (Italy), ATV( Turkey) and B Channel(Indonesia).

DQE is producing this home grown Euro 9.97 mn stereoscopic 3D series with global equity co-production partners for winter 2011 release.

LASSIE & FRIENDS - 52 X 11'  2D HD TV SERIES

Iconic Lassie & Friends goes to animation for the first time. DQE is the lead producer supported by the original right owners Classic Media(USA), French Broadcaster TF1, French co-producers - Super Prod & Story Board Animation and ZDF group(Germany). Being produced at a global budget of Euro 7 mn. Lassie a well known global brand has been produced in live action movies several times which includes actors like Elizabeth Taylor, James Steward and Peter o' Tool.  DQE along with its global equity co-production partners is animating it into a TV series of 52 episodes.


CASPER - THE FRIENDLY GHOST - SEASON 2 - 52 X 11' 3D CGI TV SERIES

After successful run of Casper TV series - Season I worldwide, under popular demand, DQE and its equity co-production partners Classic Media(USA), Moonscoop & TF1 (France) and Cartoon Network(USA) have gone ahead with production of another 52 x 11' 3D animation series of this friendly ghost.

Casper has become one of the most famous properties with global recognition for DQE. Season one, which premiered in Canada on YTV and on Cartoon Network (USA) in January 2009, was a huge success and has since been broadcast on Viacom18's kids channel, Nick, and also across the entire South Asia and Sun TV networks kids channel, Chutti TV in November 2009. TF1 the leading French broadcaster and Cartoon Network(US) are already committed to broadcasting the second season and Cartoon Network US is expected to launch the second season by Halloween 2011.

IRON MAN - SEASON II - 52 X 11' 3D HD TV SERIES

Iron Man Season II has gone into production with Marvel group (USA) now owned by Disney group.

The first season of Iron Man: Armored Adventures debuted in the United States on Nicktoons Network in April 2009 to both critical and audience acclaim, with the hour-long premiere event becoming the highest rated original series premiere in Nicktoons history. This has triggered the demand for second season.

CHARLIE CHAPLIN - 3D CGI - 104 X 7' TV SERIES:

DQE is in the development of a series of animated short films for television in collaboration with French production companies Method Animation, MK2 and France television. DQE, Method Animation and MK2 announced the production and worldwide distribution and exploitation of an animated version of 104 six-minute episodes inspired by the legendary film icon Charlie Chaplin's Hollywood films.

DQE and Method Animation are committed to preserving the sense of humour and the emotional values present in all of Charlie Chaplin's 70 films, all the while bringing out the quirky, burlesque and comic tone of the character he created in 3D stereoscopic avatar.

THE PRODIGIES - FEATURE FILM - 3D STEREOSCOPIC

The prestigious 3D stereoscopic animated feature film "The Prodigies" is under completion in DQE. This is being produced for Warner Bros, Fidelite Films (France), Onyx Films(France).

The Prodigies, is an adaptation by Matthieu Delaporte and Alexandre de la Patelliere from the novel written by Bernard Lenteric in 1982. Directed by Antoine Charreyon the film uses the motion capture and 3D Stereoscopic technologies. Artistic director is Victor Antonov, who created the visuals for the famous video game "Half-Life 2." Character design is from Humberto Ramos and Francesco Herreira, Marvel Comics designers. Warner Bros Pictures, Studio37 from Orange group and Kinology are responsible for Distribution and Sales.

THE LITTLE PRINCE 52 X 22' - 3D HD STEREOSCOPIC TV SERIES

DQE with its French lead co-producers France TV & Method Animation( France) supported by WDR (Germany) and Sony Entertainment world wide is co-producing 52 x 22' 3D stereoscopic TV series at a global budget of Euro 18 mn. The deliveries to start from winter of 2011 and to continue till beginning of 2013.

The Little Prince (French: Le Petit Prince) which is now being co-produced at DQE is based on the world famous books of Antoine de saint-Exupery written in 1943. It has been translated into more than 180 languages and has sold more than 80 million copies, making it one of the best-selling books ever. Little Prince appeared in theatricals, television, broadway kind of shows non-stop for decades and now for the first time goes into hi-end 3D stereoscopic TV series to be followed by a silver screen theatrical release by 2013.

LITTLE NICK - 52 X 11' - 3D HD TV SERIES

Season I of Little Nick is doing extremely well worldwide and DQE is privileged that another season of 52 x 11' TV series has gone into production with M6 & Method Animation (France) and ZDF (Germany).

Little Nick, the book has sold over 10 million copies in more than 30 countries and has also appeared first as a Live Action feature film and now slated for an animated feature film to be produced by M6 group France.
Besides all the above several tele movies such as Balkand - II/ III & Omkar - II for Cartoon Network, The Jungle Book - Home Video for NBC Universal, Tara Duncan - TV series for M6 France, The Mysteries & Feluda - TV series, Galactik Football for Alphanim France & Keymon - TV series for Nickelodeon are also in production.
DQE's IP division leaps ahead with major iconic IP productions such as The Jungle Book, Peter Pan, Lassie & Friends, Iron Man - II, Casper - II, Mysteries & Feluda, Balkand, Omkar and many more.
DQE has established significant presence globally as a major producer of hi-quality IPs and exploiting it for publishing, merchandising and feature film production.
Post IPO, DQE's expansion in Special Economic Zone (SEZ) is underway and is expected to be commissioned by January 2011 housing over 1600 hi-end 3D animation staff.
Licensing and Distribution (L&D)

DQE currently has over 450 hours of animated production content for revenue exploitation and further enhancing our portfolio with big brands in near future.