Wednesday, 24 August 2011 08:38
reative House Crafts Dramatic Spot For Exclusive One-On-On With Former President Airing Aug. 28
It's a frozen-in-time moment when everything changed for America. The moment just before the first plane struck the World Trade Center on September 11, 2001, rendered dramatically in photo-real 3D animation by BIGSMACK for National Geographic channel's promo for the special: George W. Bush: The 9/11 Interview. The show, which airs August 28th and marks the first-time the former President has spoken at length about the minutes, hours and days following the attack, is the centerpiece of the network's week of themed programming.
"Conceptually we wanted to create an artistic interpretation of the moment just before the planes hit – identify in a surreal way that exact second when everything changed as well as highlight President Bush's private moments that were captured on that fateful day," Andy Hann, BIGSMACK's Creative Director says.

The spot opens with riveting shot of the nose of the airplane just barely touching the familiar façade of World Trade Center towers. As a dramatic deep piano tone resonates, we see the moment just before impact from several perspectives as the voiceover intones: "9/11 has been studied from every angle except one."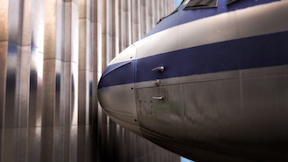 From there BIGSMACK did a 2.5D treatment on riveting images of the former President in the moments just after the attacks intercut with powerful outtakes from the interview. The spot ends with 2.5D treatment on a familiar photo of the President starring contemplatively out of the Oval Office window.
To create the look BIGSMACK animators built elaborate photo-real 3D models of the Twin Towers façade and planes in Maya. 

"We work with National Geographic channel often and we know they come to us for something special, a different visual perspective," Hann says. "We wanted this promo to stand out and make an impact, but we also felt an obligation to be respectful and not exploit an event that is emotional for all Americans. Finding that balance between something that is impactful, yet respectful, was a big challenge for us, and I think we accomplished that."