Wednesday, 29 June 2011 08:46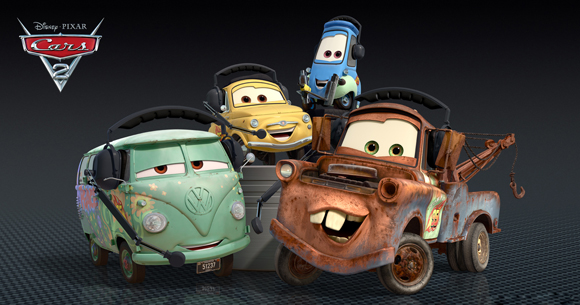 IMAX Corporation and Disney Pixar announced today that Cars 2, from director John Lasseter, posted opening weekend results on IMAX® theatres globally, generating approximately $3 million from 153 IMAX screens. Domestically in USA, IMAX screens generated approximately $2 million of the film's total gross box office of $66.1 million.
Star racecar Lightning McQueen (voice of Owen Wilson) and the incomparable tow truck Mater (voice of Larry the Cable Guy) take their friendship to exciting new places in Cars 2 when they head overseas to compete in the first-ever World Grand Prix to determine the world's fastest car. But the road to the championship is filled with plenty of potholes, detours and hilarious surprises when Mater gets caught up in an intriguing adventure of his own: international espionage. Torn between assisting Lightning McQueen in the high-profile race and towing the line of top-secret spy mission, Mater's action-packed journey leads him on an explosive chase through the streets of Japan and Europe, trailed by his friends and watched by the whole world. Adding to the fast-paced fun is a colorful new all-car cast that includes secret agents, menacing villains and international racing competitors.
John Lasseter returns to the driver's seat to direct this follow-up to his 2006 Golden Globe-winning Cars. Cars 2 is co-directed by Brad Lewis, producer of the Oscar-winning film Ratatouille, and produced by visual effects industry veteran Denise Ream (associate producer, Up; visual effects executive producer, Star Wars: Episode III – Revenge of the Sith).
Cars 2: An IMAX 3D Experience has been digitally re-mastered into the image and sound quality of The IMAX Experience® with proprietary IMAX DMR® (Digital Re-mastering) technology for presentation in IMAX 3D. The crystal-clear images, coupled with IMAX's customized theatre geometry and powerful digital audio, create a unique immersive environment that will make audiences feel as if they are in the movie.