Friday, 13 May 2011 07:59
Mirada's interactive dreamlike creatures contribute to immersive music video experience produced by Google Creative Lab & @radical.media for the track 'Black,' featuring Norah Jones.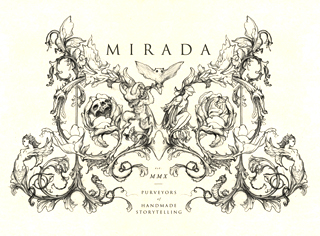 Mirada has teamed up with @radical.media director Chris Milk on an interactive music video experience called "3 Dreams of Black" for Danger Mouse and composer Daniele Luppi's Spaghetti Western-inspired concept album ROME. The album features Jack White and Norah Jones and will be released on the record label EMI. The promo for the track "Black," sung by Nora Jones, is built for Google Chrome and is an immersive, controllable game-like experience that transports fans into a surreal landscape where continually-morphing creatures -- created by Mirada -- spread life or destruction. "3 Dreams of Black" premieres May 12th at www.ro.me. Said Ricardo Cabello, Lead Data Arts Developer, Google Creative Lab, "'3 Dreams of Black' has made it clear that WebGL brings a lot of possibilities, but at the same time requires a level of technical knowledge that just a few studios have. Mirada has that and more. Not only did they easily adapt to the challenging requirements of the project, but they also suggested great solutions at critical times."

"3 Dreams of Black" is part of an ambitious transmedia project being launched to support the ROME album. Utilizing the interactivity of WebGL, a new technology which brings hardware-accelerated 3D graphics to the web browser, "3 Dreams of Black" reveals the lucid dreams of Temple, a girl born after the apocalypse.

"This project gave us a great opportunity to push the storytelling experience into new, non-linear directions," said Javier Jimenez, co-founder, Mirada. "It was clear after meeting with Chris that '3 Dreams of Black' was going to break a lot of ground in how fans interact and engage with artists and music."

The "3 Dreams of Black" story is told as a visual experience through three dream worlds. Rich 2D drawings and animations are interspersed with interactive 3D sequences in which viewers can take control with their computer's mouse and guide their journey through the unfolding narrative. Viewers can continue exploring these 3D worlds, or even contribute to the dream by creating their own relics using a 3D model creator, with some of the best creations integrated into the experience to become a part of others' dreams.

Mirada was brought into the project by Milk -- who directed last year's Arcade Fire "The Wilderness Downtown" music video with Google -- to conceptualize, design, build and animate the visual language of the project. This included art directing the look of the worlds and creating the stylized assets for nearly 50 characters. These creatures include "Life Animals" -- deer, rabbits, dogs, butterflies, etc., and "Black Animals" -- bears, scorpions, tarantulas, buffalos, etc. Working closely with North Kingdom, which handled the web design and back-end programming, Mirada's creatures are a constantly morphing herd guided by the viewer's cursor. At different points in the song, the herd comes into contact with its environment, whether it be city, countryside or desert, and destroys it or populates it with plants, trees and other forms of life -- interactions Mirada also designed and animated.

"Mirada breathed life and energy into these strange low polygonal creatures," said Milk. "They really helped make what was a digital abstraction of an animal feel organic and alive."

Mirada's team handled extensive R&D, studying animal run cycles, herding behavior and patterns, and programming this information into the creatures. "Life Animals" exhibit an elegant, fluid movement, while "Black Animals" race across the screen aggressively, striking at the environment in hard, fast motions. Because the animals change seamlessly from one creature into another, Mirada also programmed morphing attributes into the herd.

Said Mirada Technical Lead Andy Cochrane, "We were challenged with having to squeeze Chris' incredible vision into a realtime engine that can run smoothly on 'my mother's laptop' and fit in a tiny download size. The constant focus was on simplicity with the appearance of complexity. It had to react to the viewer in real time, so characters were kept relatively small, run cycles were 30 frames or less, and behaviors were driven by extremely simple calculations. At the end of a project, it's always easy to forget all the minute technical details that go into attaining the final result, but in this case the details are what make the project so special. It's a sum of its parts..."

Mirada's team of concept designers and artists, led by Art Director Ram Bhat, worked closely with Milk to design the look and movement of the creatures, creating extensive concept art, much of which can be viewed here: http://www.mirada.com/rome

Danger Mouse and Luppi joined forces in 2005 and have gone to Rome nearly every year since to record instrumentals from classically trained Italian musicians, some of whom played in the original soundtracks of Spaghetti Western classics directed by the legendary Ennio Morricone. With the soundtrack complete, Danger Mouse and Luppi enlisted White and Jones on vocals for the resulting album ROME, releasing on EMI on May 17th.