Monday, 28 March 2011 09:10
Team Lease Services, India's largest staffing solutions company and Indian Institute of Job Training (IIJT), India's fastest growing vocational skills training company organized a job fair on 26th March 2011 in Bangalore. Dr. Ashwath Narayan, the MLA of Malleshwaram consistency came to inaugurate this job fair. Shopper Stop, Unysis, Karvy Consultants, Synova, Convergent, IBM Daksh, iGATEetc are few of the top companies participated.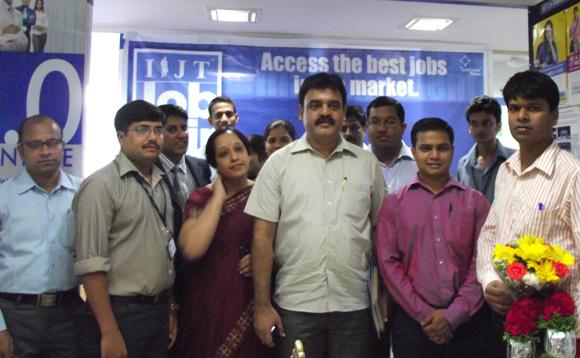 Mr. Narayan spoke to the students and enlightened them and motivated them to go further in their lives and make the most of it. He also expressed his deep gratitude to IIJT for being involved in such a service for the students. He said, "It is extremely important for the generation of today to be completely prepared to take over the corporate world once they enter it. IIJT is definitely helping the students achieve this which is a fantastic thing." The students were delighted at his presence and were happy to meet him and talk to him.
More than 1000 candidates have attended this job fair and IIJT's idea to synchronize Candidate Profiles and match with actual Job profile was a great success through their Pre registration drive of screening and filtering. Only the right candidates for the required job profile were invited so that the companies who participated meet only the qualified candidates.
Speaking with CG Today, Mr. Shajan Samuel Division Head of IIJT Education Bangalore said, "We took intense care to ensure that students who meet the criteria pertaining to Job profile only attend the interview so that there are fewer disappointed students, and I am happy that we achieved it."
IIJT a training institute started in Bangalore by 2006 has expanded from one centre to more than 250 centres located across multiple cities. IIJT conduct courses on Finance, Infotech, Sales and Retail and have an intensive plan to extend their wing into entertainment sector.
IIJT has also managed to come in collaboration with the state governments 'Palm Tree' organization which is responsible for employment in the state. This collaboration has helped them reduce the fee for the courses. A course in Finance that would cost students Rs. 30,000 would now cost them only Rs.20, 000 because of the subsidized rates given by the government.
"We are not here to mint money, our ulterior motive is to help the youth get job and also train them to have a command over what they do," added Mr. Shajan.
Their dedication showcases their efforts completely. IIJT is spread all over India and is doing a good job for the youth of today all over.