Wednesday, 22 June 2011 08:52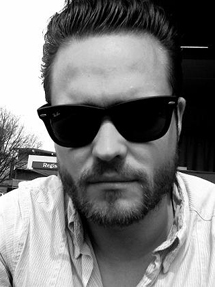 Icelandic director Thorhallur Saevarsson, known professionally as Thor, has joined Madheart, Los Angeles, for exclusive representation in the United States. It's the first affiliation with a U.S. company for Thor, who is widely considered one of Europe's brightest, young commercial directors. His credits include work for Philips, McDonald's, Vodafone, Fuji, T-Mobile, Peugeot, GE, Coca-Cola, Deichmann and Skoda.
Thor, who got his start as a teenager working on American commercial shoots in Iceland, burst onto the scene in 2002 when his short film Autograph took Silver and Audience awards at the Nike Young Directors Awards. A year later, he was included in the Saatchi New Directors Showcase at Cannes. Since then, he has helmed scores of spots in affiliation with such production companies as London's Stink, Denmark's Moland Film, Germany's Tempo Media and Slovenia's Super 16.
"I was immediately impressed with Thor's talent as a storyteller, and, in getting to know him, I've been even more impressed with the energy and enthusiasm he brings to his work," notes Madheart executive producer Lisa Phillips. "He is a quality filmmaker and a wonderful complement to the other directors we have a Madheart. We're very excited to work with him and to introduce him to the U.S."

In terms of style, Thor's work defies simple categorization, but much of it involves character-driven stories, sometimes told through breathtaking action. A case in point is a recent commercial for German sports retailer Deichmann in which a man leads police on a harrowing chase across urban rooftops. The scene has the feel of a Hollywood action film—after a series of narrow escapes the man is cornered by a SWAT team—who are after his shoes.

Thor has directed a number of car spots, including a recent effects-driven campaign for Czech automaker Skoda. In it, a couple driving through a city suddenly finds themselves in an African landscape, filled with giant waterfalls, tropical birds and a ghostly herd of elephants.

"It all comes down to my personal connection with the idea or the script," says Thor. "I need to feel inspired and motivated by the creativity, whether it's an all-out action spot like Deichmann or a more moody, visual piece like Skoda. It's always about finding the story, connecting with it and translating that to the audience."

Thor adds that his approach toward directing is heavily influenced by the years in production. "I learned how to treat people," he notes. "Filmmaking, for me, is a giant team effort, and a director needs to inspire the team to give its best at all times. I love my job and want those around me to have a good time on the set."

Thor was introduced to Madheart executive producer Lisa Phillips through his Scandinavian agent Martin Bartdrum. "I was immediately taken by her meticulous approach to marketing and sales," he recalls. "I also heard great things about her way of producing from other directors."
Moving forward, Thor says he is excited by the prospect of applying his unique storytelling touch to U.S. commercials, saying, "I plan to work my ass off…make great commercials…have fun…and raise my kids right."