Tuesday, 24 May 2011 13:27
XONA Media introduces DVD+Digital movie kiosks now capable of delivering up to 15,000 titles on demand.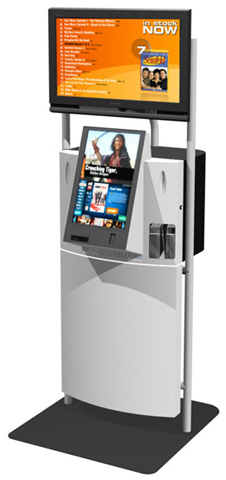 XONA Media, developer of the world's only movie kiosk capable of both traditional disc retail as well as digital media downloads, announced today a breakthrough in the storage capacity of its Digital Vault for media kiosks – now with the capacity to securely store up to 15,000 full length movies and TV programs. This expanded capacity enables digital retailers to offer in-store libraries larger than the premium online streaming movie selection from Netflix, Amazon, or Hulu. And with the XONA Instant Movie Download (XIMD) technology, every title is available for download in as little as 10 seconds. "Today's consumers are online and on-the-go, and their phone has become a mobile entertainment center" remarked Pete Popcke, Chief Operating Officer of XONA Media. "As online options continue to grow, retailers and consumers value the convenience of a 'digital filling station' to complement existing options for loading content on these advanced devices."
These shifts in how consumers access entertainment content motivated XONA Media to develop the world's only hybrid DVD+Digital entertainment kiosk. Of course, the XONA MK3 kiosk also features fully automated robotic rental and sale of DVD and Bluray discs, which will continue to dominate movie delivery for some time. However, unlike other DVD kiosks, the XONA MK3 is also capable of securely storing and downloading digital content to USB 2.0 and 3.0 memory sticks, and SD cards. Incorporating advanced USB 3.0 technology, movies can be downloaded in as little as 10 seconds.
The intent behind the development of the MK3 was to build an entertainment content platform that formed a bridge to this digital future, enabling kiosk operators to offer their customers digital content in addition to physical disc media. "This digital media option provides the operator a measure of investment protection" added Popcke.
Recent market trends highlight the need for new delivery options to reach this new class of digital playback devices:
Growing digital media consumption in both downloaded and streaming formats
Expanded supply of content in digital format by variety of providers
Mass adoption of smartphones, for the first time with the combination of media storage, processing power and screen size to practically deliver entertainment content
Proliferation of televisions commonly shipping with USB ports
Ubiquity of laptops with SD cards and USB ports
Explosion of tablets with micro SD and USB ports