Wednesday, 04 May 2011 16:05
A Simulation game that takes players on a journey across enigmatic Egypt with a challenge to create a kingdom of dreams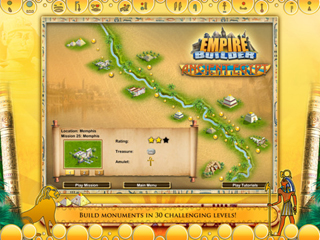 99Games, developer and publisher of iPhone, iPad and Mac games have announced the release of Empire Builder for the iPad.

Empire Builder allows the player to become one of history's best architects and raise an ancient empire from the sands. In the game, players will meet a series of powerful pharaohs and help them in building an empire along the lush Nile River. In 30 fun and challenging levels, players will not just construct some of Egypt's most famous monuments but also experience the rise of an ancient civilization.
"Empire Builder is an excellent building simulation game that gives players a taste of the Egyptian heritage", said Anila Andrade of 99Games. "The game also educates the players on different kinds of pyramids and monuments as they build them in historic locations in Egypt", she added.

Key features of Empire Builder are:

- Play through 30 challenging levels
- Meet 10 powerful Pharaohs and complete their assigned missions
- Build houses, ports, schools, temples and a variety of other buildings
- Buy, sell and haggle to earn more gold
- Unlock new building plans as you progress
- Play Imhotep's Challenge mini game for special rewards
- Activate 10 Amulet power-ups to help complete levels
- Use your magic staff to banish mummies and eliminate locust plagues
- Supports Game Center achievements and leaderboard

99Games is all about creating fun, exciting and engaging games for the iPhone, iPad and Mac. In a short span of time, 99Games has released many successful titles on these platforms.