Tuesday, 07 June 2011 09:30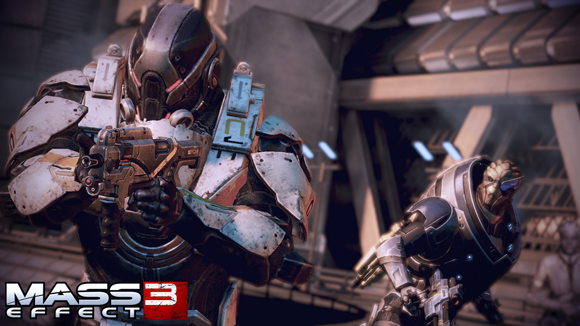 BioWare also Unveils Mass Effect 3 N7 Collector's Edition and Announces New Voice Recognition Technology in Mass Effect 3 through Kinect Exclusively on Xbox 360
Not everyone will survive. Leading video game developer BioWare, a division of Electronic Arts Inc., announced today that the epic action RPG, Mass EffectTM 3, will arrive at retailers worldwide beginning March 6, 2012. In Mass Effect 3, an ancient alien race known only as "Reapers", has launched an all-out invasion of the galaxy, leaving nothing but a trail of destruction in their wake. Earth has been taken, the galaxy is on the verge of total annihilation, and you are the only one who can stop them. The price of failure is extinction. You, as Commander Shepard, must lead the counter assault to take it back. Only you can determine how events will play out, which planets you will save from annihilation and which alliances you will form or abandon as you rally the forces of the galaxy to eliminate the Reaper threat once and for all. Mass Effect 3 will make its world debut at the Electronic Entertainment Expo from June 7 -9, 2011. Show attendees can see Mass Effect 3 at EA's booth #1601 in South Hall.  "With Mass Effect 3, we are delivering blockbuster action and heart-wrenching emotion on a scale that far exceeds anything we've ever done before," said Casey Hudson, Executive Producer of the Mass Effect series. "This is an all-out galactic war and how you choose to lead and play will ultimately determine how – and if – you can save the galaxy."
BioWare also unveiled today the
Mass Effect 3 N7 Collector's Edition
, a special edition of the game featuring exclusive bonus content and unlockable items* including in-game appearance packs, a Dark Horse Comic Book, a hardcover art book, an exclusive extended soundtrack, exclusive lithograph and an exclusive N7 patch. Designed to delight both new and seasoned fans, the
Mass Effect 3 N7 Collector's Edition
also gives instant access to the N7 Arsenal Pack which features four tactical guns exclusive to this special edition. The
Mass Effect 3 N7 Collector's Edition
is available for pre-order now at participating retailers for $79.99 in limited quantities. 
Blending world-class shooter combat with interactive, cinematic storytelling and space exploration, the
Mass Effect
series is one of the most highly decorated in the history of games, having earned over 200 international awards.
Mass Effect 3 and the Mass Effect 3 N7 Collector's Edition arrive on the Xbox 360® videogame and entertainment system, PlayStation®3 computer entertainment system and PC beginning March 6, 2012. BioWare also announced earlier today that Mass Effect 3 on the Xbox 360 will include support of KinectTM, allowing players to immerse themselves into the Mass Effect universe even further through new voice recognition technology.