Thursday, 26 May 2011 08:12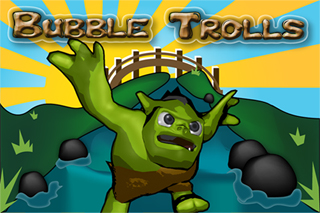 US Based Broken Switch Studios has launched their new iOS title Bubble Trolls on the Apple App Store. iPhone and iPod touch versions are 99c; the iPad version is $1.99. Also, a free Lite version is available.
Bubble Trolls is a physics-based arcade-style game where the player must help a Troll travel downstream to his home via a Bubble Taxi. The player creates ripples by tapping the water to move the bubble past a myriad of hazards determined to pop the bubble or eat the Troll. Players are aided along the way with power-ups that make the bubble harder to pop or float in the air. "Bubble Trolls is a fun game that will have you tapping and laughing. The levels are deceptively easy at first but quickly turn you into a tapping fiend," said Broken Switch's Creative Director Bernard Moore. "We built a game that we are proud of and we enjoy playing."

"The game play and increasing levels of difficulty are designed to be a big hit with both new and experienced gamers," said Amiel Bent, Managing Director, Stanford
Venture Advisors, and co-investor. "The Broken Switch team members are true gamers. They have created an exciting iOS game with many classic game play features."

Bubble Trolls features: 25 levels; 20 achievements; classic action arcade game play; Game Center; and fun for any age.