Wednesday, 27 July 2011 13:37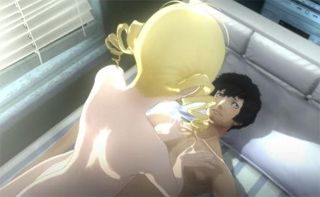 ATLUS today announced that Catherine, their highly anticipated, critically acclaimed action-adventure/puzzle game for PlayStation®3 computer entertainment system (PS3™) and Xbox 360® video game and entertainment system from Microsoft, is now available in stores across North America.  As a result of overwhelming demand, Catherine's release represents the largest launch in ATLUS history, eclipsing even that of the PS3 system Greatest Hit Demon's Souls.
Hailed by GameSpot as "involving, intense, and unlike anything you've ever played," Catherine's unique marriage of a thrilling, suspenseful, thought-provoking narrative-cited by IGN.com as "one of the most unique ever told in gaming"-with frantic, action-puzzle gameplay laden with disturbing layers of psychological horror stands as one of the most singularly novel games in recent memory.  With multiple endings, exciting cooperative and competitive local multiplayer, online functionality that complements the game's sociological commentary and allows players to compare answers to profound questions, Catherine is, as Destructoid states, "...a fantastic experience with a simple, fun and challenging arcade game at its core," and so much more.

Catherine is out now for PlayStation 3 system and Xbox 360 system with an MSRP of $59.99 for the standard edition and $79.99 for the limited-run "Love Is Over" Deluxe Edition (available at participating retailers, while supplies last).  Undecided fans are encouraged to try the official demo, available now via Xbox®LIVE and PlayStation®Network, which offers answers to their lingering questions and plenty of reasons to purchase the full game.