Tuesday, 06 September 2011 15:56
Thwart the Villainous Dr. Blowhole, Save the World and Dance With King Julien in the Latest Penguins of Madagascar Video Game Adventure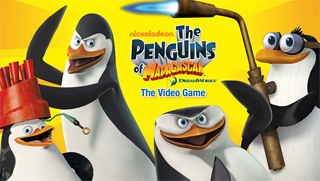 Become the newest recruit to Team Penguin as they rally against the nefarious Dr. Blowhole in the hilariously action-packed The Penguins of Madagascar: Dr. Blowhole Returns - Again!, an all-new video-game adventure available in stores today on the uDraw GameTablet(R) for Wii(TM), Kinect(TM) for Xbox 360(R), PlayStation(R)3 and Nintendo DS(TM).
Three all-new "episodes" make up the latest game from THQ Inc. (NASDAQ: THQI), which brings together the original voice cast from the hit DreamWorks Animation (NASDAQ: DWA) television series on Nickelodeon, including Emmy Award winner Danny Jacobs as the dance-crazy King Julien and Neil Patrick Harris as Team Penguin's arch-nemesis, Dr. Blowhole.
Utilizing each penguin's individual abilities, players must thwart the diabolical dolphin's plan by overcoming obstacles, rescuing friends and conquering crazy mini-games like "Julien's Dance Party" and "Mort Bowling."
Success in this super-stealth operation relies heavily on each penguin's capabilities: Skipper's team formations, Kowalski's clever inventions, Rico's explosive tactical weaponry and, of course, Private's slippery maneuverability.
On Kinect for Xbox 360, fans will join Team Penguin as the newest recruit - using their bodies as controllers to react quickly and nimbly navigate hazards and obstacles. Only with Kinect can players engage in "Kowalski's Trivia" and "Julien's Critique" - which uses a feature that enables new recruits to submit their own gameplay snapshots to the fabulous dancing Lemur himself, King Julien.
With the uDraw GameTablet for Wii, players use their stylus to experience a number of new features unique to the platform. Search hidden areas for useful bonuses, erase obstacles to uncover special items, and discover 70 printable coloring pages featuring everyone's favorite characters from The Penguins of Madagascar.
On PlayStation 3, players lead Team Penguin through complex levels and operations, meet the colorful cast in brilliant high definition, and enjoy hours of replay value with tons of hidden collectibles and wacky mini-games.
In the handheld Nintendo DS on-the-go gamers will find each penguin empowered with three brand-new abilities they must employ to defeat Dr. Blowhole and his clawed minions as they race against the clock to complete spectacularly treacherous levels unique to Nintendo DS/DSi.
The Penguins of Madagascar: Dr. Blowhole Returns - Again! is scheduled for released by today on the uDraw GameTablet for Wii and Nintendo DS (US MSRP $29.99), PlayStation 3 (US MSRP $39.99), and Kinect for Xbox 360(US MSRP $49.99).