Monday, 06 June 2011 19:18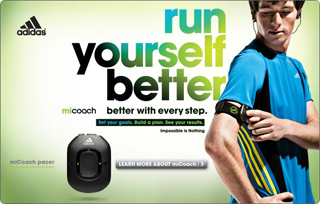 Seamlessly Blending Technology and Renowned Sports Stars, miCoach Offers the Only Totally Connected Training Program Created by Athletes for Athletes
Powerhouse international sports brand adidas is collaborating with worldwide video game publisher THQ Inc. to bring the popular miCoach interactive athletic training system to video game consoles, the two companies announced today.
Scheduled for release in early calendar 2012, the completely connected interactive experience will feature many of the world's most well-known adidas athletes, including Dwight Howard, Kaká, Tyson Gay, Jessica Ennis, Ana Ivanovic and Eric Berry, who will guide users through a wide selection of sport-specific personalized training programs. Users will also receive real-time feedback on their actual in-game performance during their workouts when wearing a miCoach heart rate monitor (or any ANT+ compatible monitor).
For an even more connected gaming experience, the miCoach hardware interacts with THQ's new video game title, allowing users to wirelessly synchronize a miCoach Pacer and miCoach mobile app to Kinect(TM) for Xbox 360(R) or PlayStation(R) Move, incorporating workout data gathered while away from the game.
"We're taking our successful miCoach line and broadening its reach to an even larger audience, who we hope will find motivation and inspiration from adidas and our roster of star athletes," said Simon Drabble, Director of miCoach BU for adidas. "In simple words, this combination of console technology and training for sports supports everybody to become better athletes, regardless of their fitness level."
Utilizing advanced video game console technology, users will be able to create profiles, set fitness goals and get instant analyses of workout regimens. They will choose from several sports, such as running, tennis, football (soccer), American football and basketball, as well as the athletes who guide them through hours of on-screen training and motivating game experiences.
"adidas and THQ are creating a remarkable fitness solution that can be with you before, during and after your training workouts," said Martin Good, THQ's Executive Vice President of Kids, Family & Casual Games. "miCoachtranscends the definition of 'video game' and brings a truly innovative experience to game consoles."
The miCoach interactive training system is scheduled to be released on Kinect for Xbox 360and PlayStationMove in early calendar 2012.