Friday, 05 November 2010 07:27
"TRIANGLE is a video work done for the book 'Black Material' which showcases Robert Knoke's artwork. Curator Jens Karlson asked me to make a short animation and get Robert Knoke's black and white artwork as base for video. I chosed to create tense harmony between geometrical forms and organic movements. Combustion helped me to expand possibilites of Black material with his strong music and sound design."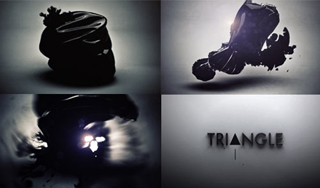 TF: What is your background? Did you always work as a motion graphics artist or did you start out doing something different? Did you receive formal training or are you self-taught?

I got traditional painting courses when I was in high school later on, got traditional animation courses in college. I mainly learned animation basics and cell animation there. Also little bit introduction some of my favorite softwares which I am using right now. As you know, In collage there is always room for trial and error. So, I was experimenting different techniques and various styles in animation.

After finishing college, I have done many motion graphics for Turkey market. I have to admit I am not really fan of what I have done in past though. However, I think even the worst experiences are still experiences. As a newcomer, they guided me to find my way.
TF: What programs do you use? Do you use any third party plugins or additional software?

I use mainly 3dsmax also use C4d sometimes. I use AE for compositing. I think third party plug-ins what makes AE a more powerful tool and they fill the gaps. I use Optical Flares and Tinderbox plug-ins for AE. I use MAX2AE to catch missing interaction between 3dsmax and AE. I also use realflow for fluid dynamics.

I am paying attention to support software developers and third party plugin developers as much as I can. Their contributions are enormous to art, animation and motion graphics. I can guess how hard to build these tools, which are makes our jobs easier, look better and the most importantly saves big amount of time.
TRI▲NGLE from Onur Senturk on Vimeo.

Read more at: Toolfarminspirations.blogspot.com