Thursday, 18 August 2011 11:30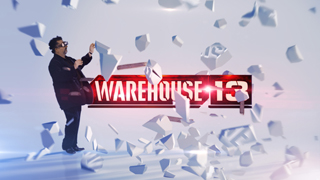 Broadcast design & animation studio motion504 recently completed a comprehensive, on-air branding campaign for Syfy to promote its slate of Monday night programming, called "Powerful Mondays."

"Powerful Mondays" marks the return of "Eureka" and "Warehouse 13," plus the premiere of Syfy's new original series, "Alphas." It is the network's biggest night of scripted original programming, and Syfy wanted to create a custom version of the Syfy brand to fit each of the shows and to do something fun for summer.
When looking at the attributes for each show, the team identified "Power" as a constant theme. In "Eureka," it's the Power of Innovation & Big Ideas. With "Warehouse 13," it's the Power of Mystery and a world of supernatural objects, and in "Alphas," everyday individuals possess Powers that allow them to fight crime.
"Once we identified the positioning and theme of the night, we worked with motion504 to develop a visual system," explains Brian Everett, Syfy Design Director. "They came up with a look that felt powerful, epic, and fun. It's set in the Syfy white space, but through a series of animations, cast interactions, and custom elements, they've created a unique aesthetic for the night that feels fresh - quite literally like the Syfy brand is about to explode. motion504 came up with a look that was simple enough in its concept to be expanded across a range of on-air elements, but complex and stylish enough to push the Syfy brand look. I couldn't be happier with the results."
The comprehensive on-air package and toolkit includes an umbrella spot for "Powerful Mondays," 14 :05 cast ID bumpers, lower-third cast banners, logo animations, cast interactions and custom elements (particles, lightings, etc.) that will permeate throughout the network's branding.

motion504's Scott Wenner, who served as director and creative director on the project, adds: "The Syfy brand environment is open white space, so we needed to somehow illustrate the idea of power without being too over-the-top or clichéd. For our concept of the exploding logos and text objects, we did extensive modeling and texturing, and used a lot of physics simulations, such as explosions and dynamics, courtesy of our Designer/Animator Adam Tow. The design challenge was putting the cast into the Syfy brand environment and compositing the live-action elements in a natural way."

For the live-action shoot with the cast members of each show, Wenner and his team traveled to Vancouver to film the "Eureka" actors on-set and to Toronto for "Warehouse 13" and "Alphas." Working with the 2nd unit crews from each show, the actors were shot against greenscreen - each interacting with and doing a specific action that would trigger the explosion of the logo. The cast IDs each concluded with a beauty shot of the actor.

"One of the biggest challenges was working with different crews in different cities," concludes Wenner. "The styles of shooting varied with each crew, but everyone stepped up to the challenge. It's always a pleasure working with Brian [Everett]. He's very knowledgeable about the animation and postproduction process, and knows how much work is involved. These large jobs have gone so smoothly because we have great communication and understanding."