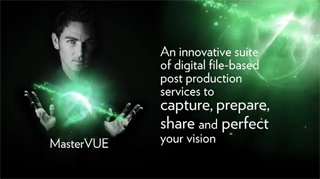 Technicolor announced the launch of MasterVUE, its latest suite of innovations for production photography, dailies and post production.

The suite of tools brings together Technicolor's expertise in color-science, global connectivity and security, as well as its research and innovation strength to provide its customers with a comprehensive experience throughout the production and post-production workflow. The MasterVUE suite of digital services allows content producers to essentially utilize a 24-hour work day, dramatically expanding productivity.

"MasterVUE allows us to proactively bring solutions to rapidly evolving digital processes, tools and workflows. We're pleased to provide our expertise, technology and innovation to help the worldwide creative community take advantage of the digital shift in content production and post-production," stated Claude Gagnon, President of Technicolor's Creative Services division.