Thursday, 09 June 2011 08:54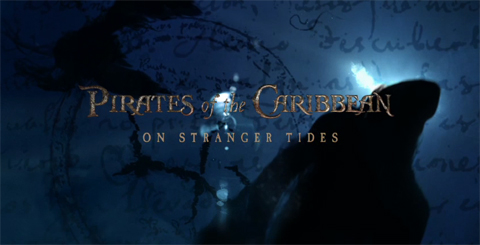 Combining subtle elements from the story such as tear drops, mermaids, a handwritten codebook and a strange symbol, multi-disciplined creative design/visual effects studio yU+co and Creative Director Garson Yu has re-teamed with Academy Award-winning director Rob Marshall and producer Jerry Bruckheimer to create the mysteriously elegant main title sequence and the dramatic main-on-end titles that bookend ''Pirates of the Caribbean: On Stranger Tides,'' the fourth chapter in the blockbuster Disney franchise in 3D.
''I always try to find a metaphor within a story,'' Yu explains. ''The manuscript page, the mysterious symbol, the mermaids, the tear drop, the ocean and the black ghosting ink effects -- we incorporated all of those elements into the title sequence to set the tone for the film and prepare the audience to enter this world.''

Yu, who served as the project's lead designer, centered his efforts on two distinct sections: the short, but eerily effective, main title; and the longer, more dramatic main-on-end title sequence.
The opening title sequence begins with a shot of a single drop of water landing in the ocean to reveal a handwritten codebook, a strange symbol and the silhouette of what appears to be a mermaid swimming toward a soft blue light. On top of that imagery is the simple typography ''On Stranger Tides'' followed by the now familiar ''Pirates of the Caribbean'' logo.
''Using high speed photography I shot a water drop falling at the camera and then reversed the motion to get the effect of a water drop falling away from the audience onto a calm surface of water,'' Yu says. ''The whole title sequence is only 14 seconds but it is very effective. When the 'Pirates of the Caribbean' title come up, it gracefully distresses itself into black ink and melts into the sea. The challenge for me was to take all of the elements -- live action and 3D animation -- and bring it to stereoscopic 3D life.''
According to Yu, for the longer main-on-end sequence he incorporated under water production footage as the background for the titles, which are displayed simply yet dramatically, giving them a unique sense of depth and texture.
Reunion with Bruckheimer and Marshall:
Working on ''On Stranger Tides'' marks a reunion of sorts for Yu with both Marshall and Bruckheimer. In 2005 Yu created the titles to Marshall's ''Memoirs of a Geisha,'' and ironically he also worked with Bruckheimer 10 years ago to develop the logo for his company.
''I understand Rob's aesthetic sensibility very well,'' Yu explains. ''He comes from a Broadway musical background and has a sensible, elegant touch in his work.  Both are very hands on and worked as a great team. Filmmaking is a collaborative process. I need the director to guide me to see the world he's created. It was truly a great experience working with both icons.''