Saturday, 23 April 2011 17:27
India's 1st International multiplex chain to foray into Bengaluru - Launched at the Royal Meenakshi Mall on Bannerghatta Road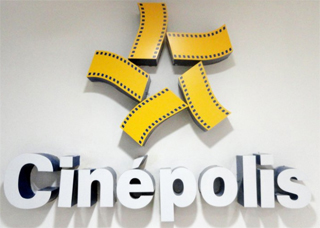 Cinépolis, the World's 4th largest cinema chain and India's 1st international exhibitor, announced the opening of its newest multiplex at Bannerghatta Road in Bengaluru. The all digital 7 screen, 1328 seater multiplex will feature a 3-D screen and a macro screen. Cinépolis is launching the cinema with the much awaited movie of the year Dum Maaro Dum starring Abhishek Bachchan, Deepika Padukone, Bipasha Basu and Prateik Babba and nine other movie titles. Speaking on the occasion, Milan Saini, Managing Director and Country Head, Cinépolis India said, "We are pleased to announce the launch of Bengaluru's 1st International multiplex. Cinema patrons can look forward to enjoying from a wide selection of movie titles and show timings with over 35 shows screened every day."
Mr. UB Venkatesh, CMD Vishala India Developers, Royal Meenakshi Mall commented, "The RM mall is an ensemble of top tier brands in retail & entertainment. We are thrilled to bring a truly world class cinema operator to Bengaluru. With Cinepolis, viewers will enjoy and appreciate watching movies in a superior ambience backed by over four decades of experience by one of the leading cinema companies in the world."
Mr. Ashish Shukla, Head Exhibition, Cinépolis added, "Bengaluru is a key market for Cinépolis India as it enjoys multiple language cinemas. With our cinema we bring to Bengaluru, a world class cinema viewing experience that includes the best in class audio visual technology, state-of-the-art 3D experience, comfortable seating, delightful and freshly prepared gourmet foods, wide and spacious foyers, and our top notch customer service. ."
The all digital screening format will enable crystal clear picture and the best-in-class sound technology will make the surround sound close to a real-life experience. In addition, digital technology will make it possible to showcase alternate content such as music concerts, cricket, and other sporting events. Apart from creating a compelling movie experience, Cinépolis also offers internet ticketing with 'Cineticket' and latest schedule on SMS by sending 'Cinepolis Bengaluru' to 53030, Gourmet food and beverage at its own wi-fi enabled Cafe , 'Coffee Tree'. The Cinépolis experience comes at an introductory price between Rs. 60 and Rs. 180.
Ashish Shukla further added, "Cinépolis believes in actively engaging with its customers. We invite our Bangalore patrons to connect with us on Facebook and Twitter and take advantage of our enormously successful Loyalty program called 'Club Cinepolis'.
Cinépolis has an aggressive India growth strategy and plans to open 500 screens by 2016. More than half of these screens are slated to open in South India. Bengaluru marks the first Cinepolis in South India.
Tickets can be purchased from the company website www.cinépolis.in and cinema schedule can be obtained on SMS by sending 'Cinépolis Bengaluru' to 53030. Further, patrons can interact with Cinepolis on Facebook at www.facebook.com/cinepolisbengaluru and follow it on Twitter at www.twitter.com/cinepolis_blr