Wednesday, 18 May 2011 10:47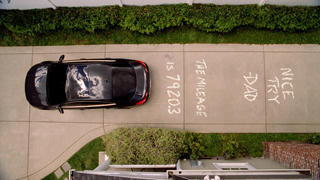 Artist owned and operated American effects boutique Brickyard VFX recently worked on a new campaign for Volkswagen via Deutsch LA. Directed by Biscuit Filmworks' Noam Murro, the campaign - featuring :30 spots "6/10ths," "When," and "Piñata" - is currently airing.

Brickyard Executive Producer Jeff Blodgett remarked, "Deutsch has produced some great creative for VW, and these spots are no exception. We were thrilled to be a part of this campaign."
In "6/10ths" a teenager tries to secretly take his dad's 2012 CC for a spin. But he's busted before he even begins when the backup camera reveals that his dad has written the car's current mileage on the driveway in chalk. "When" illustrates the 2011 Jetta TDI® Clean Diesel's excellent fuel efficiency. On a car ride, a father tells his son that he can drive "when we stop for gas" - but to the son's dismay, they drive on and on into the night without having to refuel. Finally, "Piñata" conveys the strength of the 2011 Tiguan by showing a child's (and later an adult's) inability to damage a Tiguan-shaped piñata at a backyard party.

Brickyard provided compositing, beauty work and color correction throughout the campaign. All VFX work was completed with Autodesk Flame.