Tuesday, 07 June 2011 10:09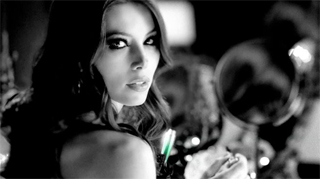 Charlex, led by CD Will Kim and Senior Producer Corey Budro, just completed VFX on a Darren Aronofsky-directed Revlon spot starring Jessica Biel and Pharrell Williams. Debuting the beauty powerhouse's Grow Luscious Plumping Mascara product, Hypnotized is a black-and-white, cinematic piece with a seductive, old Hollywood edge, set in an elegant and capacious mansion. The Charlex team worked with DDCD & Partners on the project. The spot is a follow-up to the two entities recent collaboration on an Almay spot starring Kate Hudson.

"When Erin (Sullivan), the producer at DDCD, called us about the job, we were blown away that it featured Jessica Biel and Pharrell and that Black Swan director Darren Aronofsky would be at the helm," noted Budro. "We knew this was a unique challenge and wanted to bring Charlex's beauty expertise into the mix," said Alex Weil. In the spot, Biel is seated in a plush room, plumping her eyelashes before a multi-mirrored display. Meanwhile, Pharrell moves jarringly through the finely appointed hallways, seeming to stumble according to the motions Biel makes with her eyeliner applicator. When the two superstars finally lock eyes, Biel, her eyes fully cloaked, dazzlingly illustrates the narrator's claim that Revlon's product creates a "killer look."
"Jessica Biel is a stunning natural beauty, and we didn't want to do anything with our retouch that would feel fake or unnatural," stated Budro. "Although we did clean up minor imperfections and stray hairs, for the most part our focus was on making sure the lashes were the star."
DDCD tasked Charlex with complementing Aronofsky's striking vision and continuing the narrative told through the talent's actions, especially in the final CG product shot. "We started with an extensive design exploratory," noted CD Will Kim. "This included an animation in which the product stuttered and almost fell over to mimic Pharrell's motion in the film when Jessica puts on her mascara. In the end, we came up with a horizontal product setup, a less conventional placement, that allowed us to utilize the name on the packaging, eliminating an additional super and keeping the shot simple and elegant."
"Darren's film was shot in black-and-white and had rich contrast and tone," stated Budro. "Once the film was color-corrected and conformed, we pushed the contrast even further with agency CD Jeff Weiss to move the piece away from a beauty-advertising look and into a more filmic world."
"We combined green flares and quick residual images to the product shot to help it stand out from the black-and-white film in the rest of the spot," said Kim. "The mesmerizing effect Darren achieved by shooting through the glass really inspired us, and we were able to recreate this look in the final product shot."
"The edit, by Katz of Cosmo Street, and music, by Duotone, were elegantly paced to match Darren's languid camera, so for our product animation we wanted to do the opposite in order for it to stand out as the last thing the viewer takes away. The result is a green flash of light and quick-cut animation resolving to a sophisticated product lockup," added Budro.

While Charlex is a mainstay in the beauty world, they considered this shoot an entirely new kind of challenge. "We had to help give this spot an original language outside of the typical beauty commercial standards while maintaining the integrity of Darren's film and vision," remarked Budro. "We approached it as a short film with a beautiful actress, Jessica Biel; a cool leading man, Pharrell Williams; and an accomplished director, Darren Aronofsky, with Revlon Grow Luscious Plumping Mascara at the center of it all."