Friday, 12 August 2011 04:23
Pairing of Sapphire Edge VFX Software and Award-Winning Non-Linear Editor Makes High Quality Professional Looks Easier for Videographers to Produce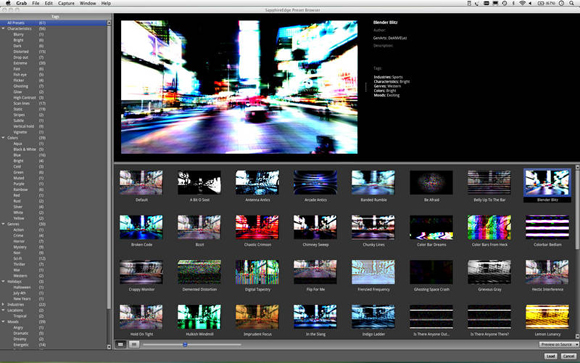 GenArts Inc., the global leader in visual effects (VFX) software for the media and advertising industries, today announces a strategic alliance with Sony Creative Software to provide an exclusive visual effects collection for their Vegas Pro content creation software to Vegas™ Pro and Sapphire Edge users. Sapphire Edge makes studio-quality looks accessible to videographers without the steep learning curve or the need to compromise quality for cost or time spent.
"We're excited to be working with Sony to make the power of visual effects accessible to the Vegas Pro community through Sapphire Edge and its collection of exclusive pre-built visual effects looks," says Katherine Hays, CEO of GenArts. "This is another step toward our goal to democratize the power of visual effects by delivering the optimal set of looks to every video creator in order to drive audience engagement and content popularity. We'll be working together with Sony to educate Vegas Pro users on how using visual effects can improve quality, increase video popularity and drive viewer engagement."
Sapphire Edge is the first product that leverages the full GenArts Solution which includes the Sapphire effects engine, the same engine that has powered VFX for Hollywood and broadcast for over a decade, FX Central, the place to get the most relevant quality looks for your project and goals, and the analytics engine to help users select the most appropriate look to optimize audience engagement and content popularity. FX Central is currently in beta and will launch in late 2011.
"We are very pleased to be working with GenArts to bring value to Vegas Pro users around the world. Designed specifically for Vegas Pro, the Sapphire Edge looks can be easily accessed from FX Central and applied via the intuitive preset browser to ensure a seamless and visually driven user experience," said Dave Chaimson, vice president of global marketing at Sony Creative Software. "Customers can now utilize exclusive cinematic film effects like Film Noir and Film Damage, apply them to their footage in a few clicks and dramatically increase the appeal of their content."
As part of the strategic agreement, GenArts will create a collection of effect-driven looks and co-market the collection through a series of webinars, tutorials and promotional activities including a demonstration of Sapphire Edge running in Vegas Pro at IBC in September.
Sapphire Edge Feature Highlights:
20 different presets exclusive to Vegas Pro
Visually browse over 350 pre-built native looks
Easy-to-use design sliders
Affordably priced at $299