Thursday, 26 May 2011 10:05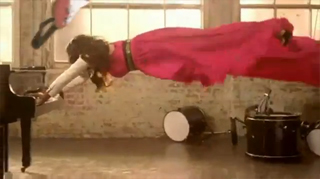 ITV's promo for the return of their entertainment show, 'Popstar to Opera Star' is so spectacular it will blow you away. Starring the considerable vocal talents of Katherine Jenkins and Rolando Villazon, the duo's rendition of Queen's Bohemian Rhapsody is sung with such gusto that Myleene Klass, who accompanies them on the grand piano, is literally blown away. The promo was directed by Paul Quinn for ITV Creative and posted at Prime Focus, where work was completed in both London and India.
With a tight turnaround time, the Prime Focus 'Global Digital Pipeline' was utilised, allowing the project to be creatively led locally in London, while much of the prep work, such as clean up and wire removal, was completed at the same time in Mumbai.
During pre-prods and with only one day for the shoot, Senior VFX and Shoot Supervisor John Harvey offered advice on what layers to use, what layers he would need in post and how many passes had to be done within the day. On the shoot, John also worked as a second unit; using Canon 5D to shoot effects plates - and many of the elements he shot were used in the final promo.
Back at Prime Focus, once the rushes had been graded by Colourist Tom Russell, they were uploaded to CLEAR, Prime Focus' proprietary content management system, and sent to India. The Indian team, who had already been briefed by John on what was required, then got to work. Running parallel to this, back in London, John and Dave 'Skippy' Clifton, working side by side on Nuke and Flame in the dedicated pipeline suite, started putting the shots together. "I was doing 3D particle effects and a bit of matte painting and we worked out a route for getting a sound airwave effect into it as well as all the other things" said John. "It was one of those jobs where it was all very subtle - people didn't really notice some of the effects we had added, such as extra keys flying out of Myleene's piano."
"It was a super-tight turnaround – one week from start to end for what was really a two or three week project" concluded John. "It was a job that could not have been done solely in London - it wouldn't have been cost-effective to complete in any other way than to use our extended pipeline. We were able to deliver the scale and volume of effects which the client brief demanded through India, whilst still budgeting for plenty of time in Flame to hone the creative with the client at this end – a fantastic way to work."
"It's been a real pleasure working with the team and the end result is being really well received" said Kirsty Beale, Senior Producer at ITV. "Please pass on our thanks to everyone and of course who can forget India."