Thursday, 30 June 2011 09:54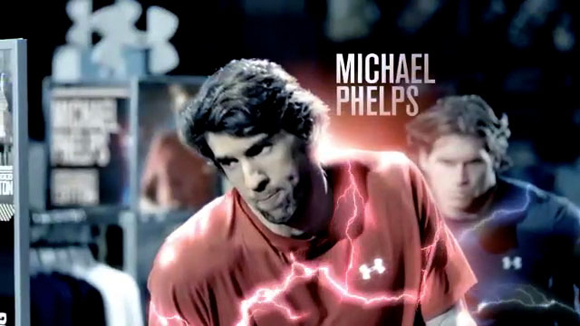 Following an award-winning collaboration on an ESPN/Sony spot, Nice Shoes has once again teamed up with The Vault, this time to add VFX and color to a visually explosive Under Armour spot. The Nice Shoes team, led by Colorist Lenny Mastrandrea and Creative Director Aron Baxter, created a unique look for the spot, which promoted Under Armour's Charged Cotton line at Dick's Sporting Goods stores.
Charged Cotton opens on a tractor-trailer backed into a nighttime Dick's parking lot, with steady lightning flashes menacing the sky overhead. A pair of Dick's workers emerges and stares in awe as the semi trailer opens to a burst of blinding light, releasing a mob of Under Armour-clad athletes. The group pours into the store, leaping and dodging the racks of clothing as a living lightning-bolt pattern ripples across their bodies and through the air around them.
"One thing that Under Armour is very meticulous about is maintaining the reality of their clothing, " stated Mastrandrea. "So to take the lighting effect and integrate it with the existing style and color pattern was challenging. We worked closely with our VFX team to navigate this landscape, finding color that would synch with their effects. This collaborative effort worked extremely well for us - as it always does - helping to determine how far to push color correct, what the proper color tones were, and that there was enough separation, all while maintaining the original look and style behind the spot."

Nice Shoes took an active role on the project from the concept stages, helping to adapt the look of the existing print campaign to the screen. Working closely with Director Tim Kendall and Jon Paley, The Vault's creative director, Nice Shoes conducted several test rounds over a two-week period to determine the optimal color palette and tweak the VFX, which included everything from the nature and placement of a flicker of light to where light would fall to how energetic the interior and exterior shots would appear. "We wanted The Vault to be able to stride into shoot day confident of the direction the effects were headed in," noted Baxter. "We offered a variety of options as we gravitated toward the look they had envisioned."
Once The Vault completed the shoot, Nice Shoes was able to almost instantaneously make adjustments to the original footage and supply the corrected media. "The greatest challenge was simply controlling the abundance of effects," continued Baxter. "This was an extremely immersive spot, in which we're dealing with a great deal of stimuli in every frame; a lot of our post-shoot focus went to introducing some order to the visual onslaught, to create symphony from chaos."

Nice Shoes' existing relationship with The Vault helped tremendously. "Coming off our ESPN/Sony campaign, we had such great momentum with everyone at the agency that the process was seamless," noted Nice Shoes Producer Joe Hobaica. "For them, knowing that they can get everything done under the same roof, nearly at the same time creates an incredible level of trust and confidence between our two companies. It's not, 'Here's our money, make us a spot,' it's a true collaboration in which both teams feel we're working together to make something great happen."