Friday, 27 May 2011 08:41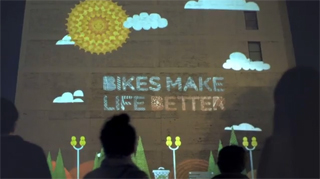 Rabbit, Bicoastal directors Black Swan and Trevor McMahan teamed up with Minneapolis-based ad agency Colle+McVoy to light up the streets of downtown Los Angeles with bicycles and projected animations in an illuminating new PSA, "Bikes Make Life Better," for national bicycling movement Peopleforbikes.org.

Rabbit directing duo +jacksonkarinja also collaborated on the web-based PSA, serving as DPs. The PSA features various bicyclists riding through the urban streets of downtown L.A., casting colorful projections on iconic city structures as they pass. The pack eventually gathers in an empty parking lot to gaze up at a projection reading, "Bikes Make Life Better."
"The goal of the PSA is to celebrate biking and the positive change it can bring to communities and people across America," said Mike Caguin, executive creative director, Colle+McVoy.

Notes Black Swan executive producer Matt Winkel, "The idea is about lasting changes through urban renewal and beautification. I mean, this is a parking lot, it's a pretty boring space. This is a cause we're all very passionate about and hope to educate more people about this important organization."
The PSA was shot over two nights in multiple locations throughout downtown Los Angeles and culminated with a gathering of local bike enthusiasts and friends for the filming of the final scene. To capture the true urban biking experience, Rabbit kept the production team small and nimble. Every filmmaker selected was a rider, infusing the PSA with an authentic love for the mode of conveyance. The action was captured primarily with hand-held RED cameras on modified Segways and minivans, and filmed from 'sniper positions' atop buildings with the Canon 5D.

The projections were meticulously planned by the team, who took great pains to setup resolutions that matched the exact proportions of every surface. Says Black Swan's creative director Nick Losq, "We're used to animating after the live action's been shot. This was the other way around; if we didn't have an animation, we didn't have a shoot. We didn't use traditional slates and basically did everything we could from a production standpoint to protect the grassroots feel. If it turned out too slick, it wouldn't look like it was made by and for the people." The character concepts were created by designer Brian Gossit, then animated by Black Swan with a thematic focus on water, forest and desert.

Concludes director McMahan, "Something like this doesn't happen without spoonfuls of collaboration. It was a collective effort that Rabbit turned into a fun community event. I think that shines through in the final product." Notes Rabbit EP Joby Barnhart, "We were excited to weave our diverse creative talent into this interesting project and form a team with the best possible players for every step of the process, regardless of their official title."
"Bikes Make Life Better" opens with a young man walking to unlock his bicycle after a presumably long day at work. We see a small projector in his hand as he mounts his bike, and others throughout the city simultaneously setting off for a nighttime ride. Vibrant projections are cast onto streetscapes as the bicyclists move through the city, with digital vines winding up parking garages and colorful animals flittering about. Three young men perform bike stunts as they cast a lively animated landscape of peace sign-infused trees and singing birds on walls. We cut to a couple staring in wonder at an animated aquatic scene cast by a young woman casually pedaling by on her blue beach cruiser.

A growing number of spectators' interests are piqued as the original rider continues to cast vibrant landscapes. The entranced observers gather in an empty parking lot where they gaze up at a larger than life scene projected onto a tall city building. The various cyclists congregate in the lot to see the projection of a scrolling animated landscape filled with thriving plant and animal life and featuring signs of a thriving community, including a bicycle and a recycling bin. The animation concludes with the super, "Bikes Make Life Better," followed by the Peopleforbikes.org logo. The PSA closes with a shot of three of the cyclists riding through the still-empty street on their way home.