Thursday, 01 September 2011 15:00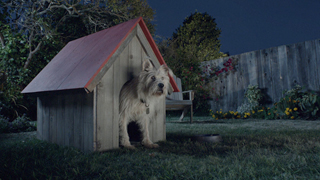 Chopper, the lovable-but-anxious dog who goes to great lengths to protect his prized bone, makes a comeback in a new campaign for Travelers Insurance with CG help from broadcast design & animation company motion504.
Created by ad agency Fallon, the four spots, "Cat Burglar," "Stolen Bone," "Puppy Love," and "Soapbox Car," follow a similar theme as Chopper frets about guarding his bone until peace-of-mind comes in the form of the Travelers red umbrella.
"After shooting four commercials for Travelers, and with little time to finish, I looked to motion504 to help with graphic solutions to my endframes; they were both creative and fast, which is what I needed," says Myles Allpress, Fallon Art Director. "With very little briefing, the motion504 guys 3D modeled umbrellas from real-world pictures to create a natural, and very real, picture to graphic transition. It emulated a breeze, and it looked perfect every time, of which I am very grateful. It's also great to have a shop that good in our own backyard."
motion504 was responsible for creating the seamless transition from the live-action umbrella to the 3D umbrella, which segues into the end tag. This involved transforming from the 3D umbrella to a model that matched the stylized, graphic Travelers logo, achieved with subtle geometry morphing. The difference between detailed model and graphic logo was a subtle item, but important to the client to keep the imagery on point with their branding.
"The client was open to letting us determine what the transition would look like," explains Amy Schmitt, motion504 Creative Director. "The biggest challenge was trying to match the realism of the live-action umbrella with our CG umbrella. There was extensive paintwork behind the umbrella, so we needed to coordinate closely with Mass Market, who handled the finishing work on the spots. They provided us with the background plates, and were such a pleasure to work with."
"Once the umbrella was made, we positioned it and the camera to match the footage," concludes Adam Tow, motion504 3D Artist. "After final tweaks to make the viewing angle work, the original shoot footage was projected into the model so that materials and colors matched between the two sources. There was additional rotoscoping and matte painting to smooth the handoff from real to 3D. The motion and sway of the umbrella came out feeling very natural. Everyone loves this campaign, and we're happy to be a part of it."